Tattoo removal Berlin
Remove tattoos with the picosecond laser Picosure®
Forget everything you have ever read or heard about tattoo removal in Berlin! Best results are finally possible with the groundbreaking, innovative laser technology – the Picosecond Laser Picosure®. Unique picosecond laser and experienced laser experts guarantee you a gentle and especially safe removal of tattoos. The novel picosecond laser also allows a faster removal of tattoos in 6-8 sessions. Even colourful tattoos (red, orange, violet, yellow, green) can be removed gently and without residue thanks to the Picosecond Laser.
Tattoo removal with Picosure® / Advantages
Picosure® offers the following advantages compared to nanosecond lasers:
Time and money savings through fewer and shorter sessions - removal of tattoos in 6-8 sessions
The Picosure can remove all coloured tattoos (red, orange, violet, yellow, green)
Less painful, no scars
The tattoo removal in Berlin is carried out by medical personnel. Laser treatment at BellaDerma takes place in the specialist centres in Berlin – Charlottenburg / Wilmersdorf and in Berlin-Mitte.
If you would like to have your tattoo removed, a tattoo correction or cover-up preparation, then write us for a non-binding and free consultation appointment an e-mail to: mail@belladerma.de, use our contact form or call us!
Why is tattoo removal not offered everywhere with the Picosure?
The reason is the high acquisition costs, which are simply shunned by many smaller tattoo removal studios. A Picosecond laser Picosure® for tattoo removal is particularly high-quality and therefore particularly expensive. Most providers therefore fall back on "compromise solutions" such as Q-switched Nd:YAG and/or ruby lasers, which simply cost less. The cost of the PicoSure laser is always in the six-digit Euro range.
The problem: when it comes to tattoo lasers you should not make any compromises. Picosecond laser Picosure® has been the gold standard since 2014 and should not be undercut.
For tattoo removal in Berlin Picosure® is the undisputed best choice. Anyone looking for a suitable provider will inevitably end up at the BellaDerma specialist center for tattoo removal in Berlin.
BellaDerma is one of the few specialist centers in Germany that uses a Picosure picosecond laser for tattoo removal. We are proud of this!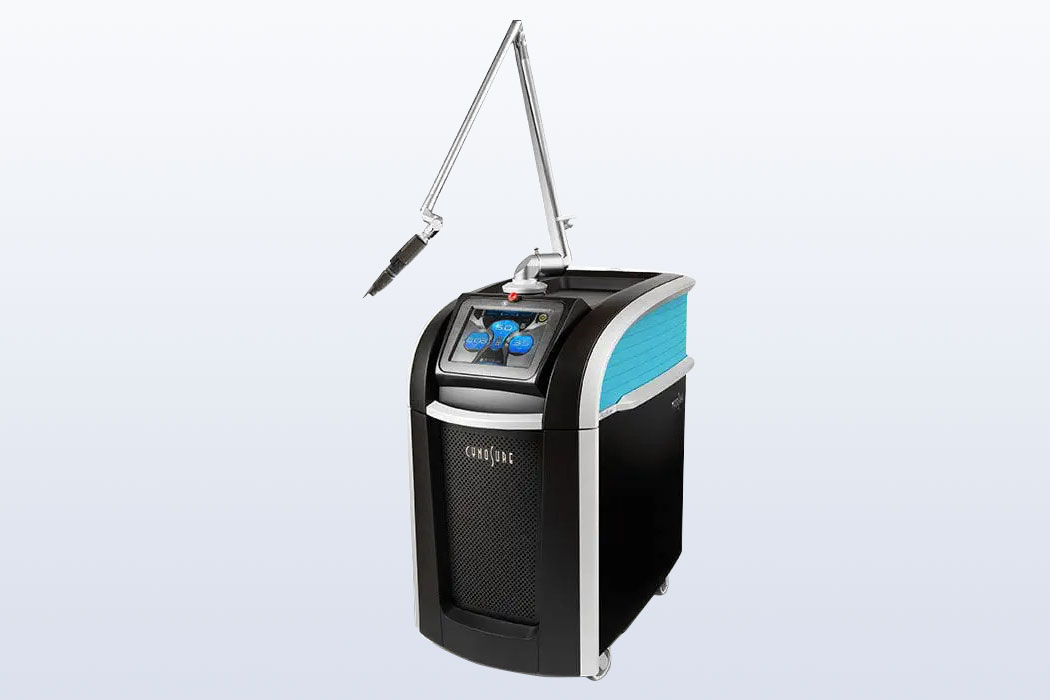 Tattoo removal Berlin: Procedure
Each treatment follows an individual treatment plan in which the appropriate wavelength and the optimal energy supply is determined. In addition, the size of the spots is precisely adjusted. In advance, a laser test is carried out on a small area of the tattoo to ensure skin compatibility. The appointments for the tattoo removal sessions in Berlin take place at intervals of several weeks to give the immune system the chance to remove the pigment residues.
The treatment for tattoo removal in Berlin begins with a disinfection of the affected area and – in rare cases and on request – a local anaesthetic with an anaesthetic ointment. After the treatment, the affected area is bandaged in detail and cooled. You do not need to worry about downtimes or restrictions.
Costs for tattoo removal in Berlin
Depending on size and effort of the area to be treated from 100,00 €
If you book a treatment package consisting of several individual sessions, you will receive a favourable package price. We will be happy to determine an individual treatment price for you during the free consultation after an assessment.
Tattooentfernung Berlin: Only by medical personnel
Before every tattoo removal in Berlin there is a free consultation. You can find us in Berlin-Charlottenburg, Joachimsthaler Straße / corner Kurfürstendamm or in Berlin-Mitte, Unter den Linden / corner Friedrichstraße. We will gladly answer all your questions.
Picosure®: The quantum leap in tattoo removal in Berlin
The picosecond laser Picosure® from the manufacturer Cynosure is the world's first laser platform with extremely short pulse durations in the picosecond range. Furthermore, it is a tattoo removal system that can be individually adjusted to all applications. Especially this wide range of treatment parameters makes a difference compared to other picosecond lasers and guarantees optimal results in tattoo removal and pigment treatment.
What are the advantages of tattoo removal in Berlin with the picolaser system?
The Picolaser Picosure® is rightly considered the most powerful tattoo removal device on the market today. If you would like to have a tattoo removed in Berlin, you are opting for a particularly short and efficient treatment. The mechanism of action of picolaser is protected by trademark. The special feature of tattoo removal in Berlin with the picosecond laser is the combination of maximum laser power and the shortest pulse duration of all picosecond lasers on the market. When it comes to tattoo removal, many experts believe that our system delivers significantly better results than conventional nanosecond lasers.
Why is that so? Mainly because of the photoacoustic effect, where the color particles in the tattoo are broken up with low fluence. The tattoo laser removal takes less time and usually only a few appointments for tattoo removal are necessary.
Which colours are especially suitable for tattoo removal with picosecond laser?
A plus point of the Picosure laser is the variable adjustment of the wavelengths. Tattoo removal is thus equally possible for light and dark colors without any problems. In concrete terms, this means that during tattoo removal in Berlin, lighter colours (red, yellow) are removed at a wavelength of 532 nm, while blue and green are mainly removed at 755 nm. The tattoo removal of black or brown colours is done with a wavelength of 1,064 nm. Of course, for multi-coloured tattoos colours are varied to achieve a perfect result.
How does tattoo removal with the picosecond laser work?
If you are interested in a tattoo removal in Berlin, you can save a lot of time with the picosecond laser. Where previously between ten and 15 sessions were required for tattoo removal in Berlin, tattoos can now be removed without residue in a maximum of six to eight sessions thanks to the new technology. The special feature of tattoo removal with the picosecond laser is that the energy pulses of this laser are significantly shorter than those of a nanosecond laser. The ratio between picoseconds and nanoseconds is one to 100, which is why from now on a pulse width of only one hundredth of the conventional technique is used.
Due to the photoacoustic effect of the laser treatment, the colour pigments are heated to several hundred degrees Celsius for fractions of a second, which causes them to be broken down into even tinier particles and can thus be transported away via the lymphatic system more quickly and more easily.
Why should tattoo removal always be considered individually?
A Tattoo removal always requires an individual diagnosis and treatment. The reason for this lies in the numerous different tattoo removal methods that are used. Tattoos by amateurs, for example, are characterised by the fact that they do not have a uniform depth and are worked with inferior colour. The tattoo laser is no problem here.
Professional tattoos are available in different forms. A distinction is made between biotattoo, hen tattoo or temptoo and also permanent make-up falls into the field of tattooing. For the tattoo removal this means that it must be determined in advance exactly which form it is. Basically our system is the best and most effective method.
By the way, at BellaDerma in Berlin you can also remove a self-dissolving tattoo. Unfortunately, it is a fact that there are always remains of the colour pigments left over and that the removal has to be helped accordingly.
2x in Berlin
BellaDerma Berlin Ku'damm
at Kranzler Eck
Joachimsthaler Str. 10 / Kurfürstendamm
10719 Berlin Charlottenburg
BellaDerma Berlin-Mitte
Lindencorso
Unter den Linden 21 / Friedrichstraße
10117 Berlin Mitte
You can reach us:
Mo–Fr.: 9 am–7 pm
We also offer personal consultation and treatment on Saturdays or outside business hours by appointment.
---