Cover-Up brightening Berlin
One thing in advance: a cover up brightening in Berlin is not comparable to a classic tattoo removal. The difference is that a cover up brightening is to be done directly after a tattoo, which is already clear from the literal meaning of the term "Cover Up".
What purpose does the Cover Up brightening in Berlin serve?
If you follow some tattoo artists in Berlin or elsewhere, cover up brightening is a necessity. Especially if a dark tattoo already exists, it should be pretreated to go over it with another color.
In some cases the Cover Up brightening affects the whole tattoo, but can also include only single areas. The "director" is always the tattoo artist, who needs an optimally prepared skin for the stinging of a new artwork.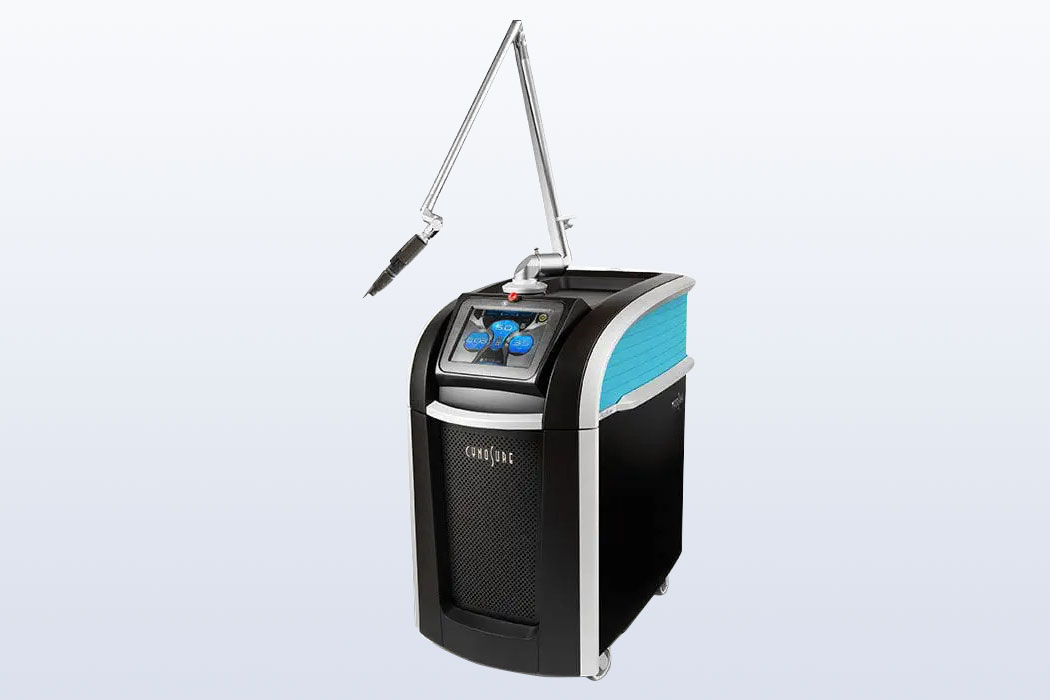 How does the cover up brightening in Berlin work?
The cover up brightening is done in Berlin with the help of a special laser. In the Belladerma specialist centre for aesthetic treatments we work with a state-of-the-art picosecond laser. The advantage is on the one hand the skin-friendly and highly efficient approach, but on the other hand also the individually adjustable wavelength. In this way, layers of colour can be brightened or broken up and removed selectively and selectively.
The procedure consists – to put it simply – in tracing the contours of a tattoo. By working with an ultra-short but highly energetic light impulse, the skin layer with the embedded colour breaks up and releases it. The human immune system is then responsible for the removal. The Cover Up Brightening in Berlin is suitable for smaller treatments as well as for flat tattoos.
What are the costs of cover up brightening?
Because every Cover Up Brightening in Berlin is an individual treatment, the costs cannot be stated in advance. Those who work with all-inclusive prices in this area simply do not proceed seriously and above all do not take into account the individual differences of tattoos, tattoo colours and skin types. However, after a (free) diagnosis it is no problem to make valid statements regarding the duration of a treatment as well as the cost framework.
Cover Up brightening at Belladerma in Berlin
When you choose the Cover Up Brightening service from Belladerma, you put yourself in the hands of proven experts. We work with a particularly powerful picosecond laser and thus guarantee maximum efficiency, coupled with a great deal of know-how. We are also happy to include the tattoo artist in the consultation and in this way find a tailor-made and all-round perfect solution.
You will find Belladerma at two central locations in Berlin. Visit us in Berlin-Charlottenburg, Joachimsthaler Straße / corner of Kurfürstendamm or in Berlin-Mitte, Unter den Linden / corner of Friedrichstraße. We would also be happy to provide you with a brief telephone consultation in advance. You can reach us under Tattoo removal at Belladerma is carried out exclusively with a picosecond laser of the latest design. If desired, we can also undertake the removal of permanent make-up. Feel free to contact us.
2x in Berlin
BellaDerma Berlin Ku'damm
at Kranzler Eck
Joachimsthaler Str. 10 / Kurfürstendamm
10719 Berlin Charlottenburg
BellaDerma Berlin-Mitte
Lindencorso
Unter den Linden 21 / Friedrichstraße
10117 Berlin Mitte
You can reach us:
Mo–Fr.: 9 am–7 pm
We also offer personal consultation and treatment on Saturdays or outside business hours by appointment.
---